About Us
Palmyra Waterproofing has earned it's reputation as one of the most trusted waterproofing companies in Palmyra.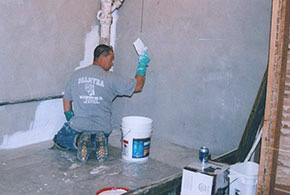 We have been in business since 1985 and we service customers from Harrisburg to Lebanon to Lancaster. Palmyra Waterproofing live by quality of our work and the importance of customer service.
The company consultant will meet with you at your convenience, and at no cost to you, to asses your problem, and recommend a reasonable solution. No high pressure tactics, no gimmicks, no attempts to sell you a product or service that you do not need. Just an honest assessment of the situation.
The consultation phase of your experience with Palmyra Waterproofing will take approximately 1 hour. No 4 hour pressure packed encounters with a slick salesman. No negotiations is required on our price because our first offer is our best offer. No exorbitant first offers with the intent of lower the price if you believe it is to high. No tricks, no gimmicks! In other words, we treat our customers as we would like to be treated. Adherence to these principals has allowed us to continue to service the local communities for 28 years. So before you make your final decision on which company to use. Give us the opportunity to assist you with your water problems.